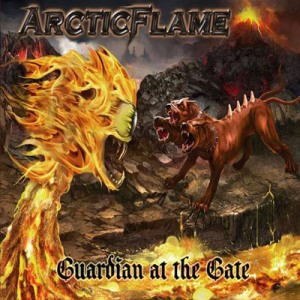 Arctic Flame
Guardian at the Gate
2011
~
"Been there, done that." That is my quick review of Arctic Flame's "Guardian at the Gate" cd. But then, that doesn't really cut it.
When listening to this album, I tend to think of Paul Di'Anno-era Iron Maiden and Uli Roth's music with Electric Sun mixed with 80s-era German power metal. The song writing is pretty decent (barring some lyrical content like "The Creeper"), the musical competence is good, but I have some trouble with the vocals.
Udo is an all right vocalist, Paul Di'Anno is is ok, too. Michael Clayton Moore is similar to Udo, but not as gruff. And in comparison to DiAnno, he's a little on the monotonous side for my tastes. He is not bad by any stretch of the imagination, but his vocals are not the perfect match for what Arctic Flame is trying to do.
"My Little Slice of Hell" and "The Eternal" are standout songs for me. Sometimes metal bands put a bunch of spit and polish into their work, that takes away from the rawness that I want to feel. While the production on "Guardian At The Gate" is good, there is a sense of being raw and unpolished that I really like.
Overall, Arctic Flames "Guardian at the Gate" is all right. Take your time and give it a few listens, I am sure you'll find something on there for your liking.
Live Long and Rock Hard,
SpaceKev
~ ~ ~
SpaceKev's Rating: 3 out of 5